Cammenga Destinate Tritium Protractor Compass D3-T
SKU:
Cammenga Tritium D3T
Brand:
CAMMENGA
Unit:
pcs
Qty available in stock:
14
Navigate Like Others Can't Navigate
Give yourself the peace-of-mind of having a Cammenga Protractor Compass. Equipped with 6 Tritium micro-lights, it provides continuous illumination for over 12 years. So even in total darkness, you'll be prepared. Take and transfer bearings, calculate declinations and triangulate with the ultimate confidence. Our Destinate Tritium Protractor Compass' accuracy provides you with the efficiency and speed you need to navigate any terrain.
FEATURES
Map magnifying glass.
4 map scales for easy navigation on a variety of maps.
Dial graduations in both degrees and mils.
Works flawlessly in temperatures ranging from -50° F to 150° F.
Designed to last with a Navalon baseplate and waterproof, shockproof and sand proof housing.
Built to the same demanding specifications as our military compasses.
Incorporates the same military-grade parts and materials found in our Tritium Lensatic Compass.
Proudly made with the highest quality in the U.S.A.
NSN: 6605-01-625-2819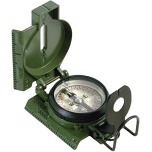 See When Others Can't See.
As a light source, phosphor is good – but Tritium is better:
It's always "on" and requires no electrical energy or battery power (that means no recharging either).
Provides constant, high-contrast illumination in the darkest conditions.
Cammenga is only one of a small handful of U.S. companies licensed to handle Tritium. Working closely with the Nuclear Regulatory Commission (NRC) to ensure proper testing and paperwork is always completed.
The Self-Sustaining Power of Tritium.
Tritium is an isotope of hydrogen. It's converted into a gas and injected into thin, glass vials coated with a phosphor material, creating a fluorescent light. The Tritium-laced glass is cut down into extremely fine pieces and inserted into products such as our compasses.
SKU:
Cammenga Tritium 3H ,
Qty available in stock:
20
129,99 €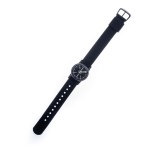 Navigate Like Others Can't Navigate
Accurate. Hands-free. Tested in the most demanding conditions. Count on the Cammenga Tritium Wrist Compass day or night. Easy-to-read, 10° graduations – enhanced with Tritium Micro Lights – make it invaluable for on-the-go land navigation.
SKU:
Cammenga Tritium J582T ,
Qty available in stock:
10
59,95 €