CAMMENGA
See When Others Can't See. As a light source, Tritium is better than phosphor. It's always "on". Cammenga is U.S. Military's official compass manufacturer. Equipped with 7 Tritium micro-lights, providing continuous illumination for over 12 years.
Laost otsas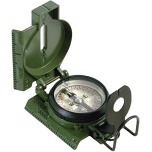 See When Others Can't See.
As a light source, phosphor is good – but Tritium is better:
It's always "on" and requires no electrical energy or battery power (that means no recharging either).
Provides constant, high-contrast illumination in the darkest conditions.
Cammenga is only one of a small handful of U.S. companies licensed to handle Tritium. Working closely with the Nuclear Regulatory Commission (NRC) to ensure proper testing and paperwork is always completed.
The Self-Sustaining Power of Tritium.
Tritium is an isotope of hydrogen. It's converted into a gas and injected into thin, glass vials coated with a phosphor material, creating a fluorescent light. The Tritium-laced glass is cut down into extremely fine pieces and inserted into products such as our compasses.
SKU:
Cammenga Tritium 3H ,
Qty available in stock:
0
129,99 €