04603 Scepter Military Water Can (MWC) 20L Black
04603 Scepter Military Water Can (MWC) 20L Black
Capacity: 20L / 5G
Height: 47,7 cm / 18,8"
Lenght: 34,7 cm / 13,7"
Width: 17,2 cm / 6,8"
Weight: 1,965 kg / 4,332 lbs
Features of the Scepter Military Water Cans
- Rugged and durable
- Will not rust because all components are plastic
- Operating temperature of material is -32C to +60C
- Headspace so container will float when full
- Stackable
- Light-weight
- No rattles / noises during handling

- Manufactured from food grade material - will not add taste, odor, or chemicals to the water
- Designed to preserve the quality of drinking water during storage and transportation
- Made of FDA approved materials
- BPA free

- Large mouth for filling and emptying quickly
- Small pour cap for precision pouring
- Vent built in to cap assembly for smooth pouring
- Pouring dispenser available
- Locking tab to ensure cap does not loosen during transport
- Plastic tether securing cap to can

- Developed by Scepter with military technical authorities and produced for military performance
- The first Military Water Can ever produced in the world
- Been in service since the 1960's with Canada and US
- Designed and produced to military specifications MIL-DTL-43613E and CF-C-693
- No/low maintenance


The Scepter Military Water Canister (MWC) is fielded globally with numerous military forces, included the U.S. and Canadian forces. Scepter's line of Military Water Cans (MWC) complement the Scepter line of Military Fuel Cans (MFC) in quality, dimensions, performance and colours.

The large cap, the strap, the pouring spout and the breather cap are injection-moulded and fabricated from low-density polyethylene. The screw-cap is locked in the tightened position by means of a tab on the cap and strap assembly. Superimposed on the large cap is the small pouring spout, with its own cap, as well as the small breather cap assembly.
All of the MWC components are made from FDA approved materials. The material used to fabricate the canister body is high density polyethylene (HDPE – 2) and linear low density polyethylene (LLDPE) is used to fabricate the cap and its components.

The Scepter MWCs are compliant to the US specification MIL-C-43613D and it specifies in section 3.2 that the materials used must meet the requirements of 21 CFR - Food and Drugs, and further, that the materials used must be HDPE for the body and LLDPE for the cap.

The Scepter MWCs also are compliant to the Canadian Forces specification CF-C-693, also states in section 3.2 that the materials used in the body, cap, and strap must be of food grade quality.

Scepter's MWCs (Military Water Cans) are BPA (Bisphenol A) free.

BPA is a key building block organic ingredient in some polycarbonate and other plastic materials, but it is not an ingredient in either HDPE or LLDPE, the materials used in our MWCs.

The longevity of a MWC - being plastic - is 15 years and beyond, and during that period there is no risk of plastic leaching into the water. In principle, the water can should be for transport and short-term storage.

Each MWC has a unic, integrated single handle that, in the dark, prevents mistaking it for the three handled MFC.
Scepter's MWCs are supplied to military armed forces around the world as accessories on OEM vehicles and for OEM military auxiliary equipment and systems. Able to add unique inserts into the moulds to identify ownership.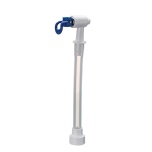 BACK IN STOCK FROM 28-Nov-22
10266 Scepter Military Water Can DISPENSER SPOUT
SKU:
10266 ,
Qty available in stock:
54
19,00 €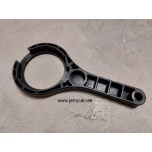 SKU:
MWC wrench ,
Qty available in stock:
59
29,95 €