Scepter Military Water Can Wrench
SKU:
MWC wrench
Unit:
pcs
Qty available in stock:
61
MWC Cap Wrench for Scepter Military Water Cans. Our wrench has been designed with built in wrenches for vent and spout and to be stronger and more durable than alternatives in the market. A stuck or swollen cap is a thing of the past. Our wrench can even remove a cap from a can with stripped threads. Tested for consistent quality and meets or exceeds original specifications. Made from glass-reinforced plastic for longevity and durability. Built in vent and spout wrenches in handle.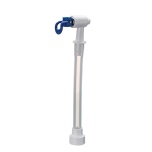 BACK IN STOCK FROM 28-Nov-22
10266 Scepter Military Water Can DISPENSER SPOUT
SKU:
10266 ,
Qty available in stock:
57
19,00 €