Laost otsas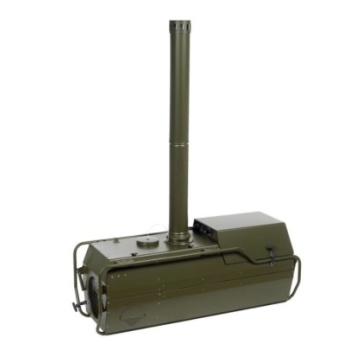 Zoom
Dantherm VA-M15 MKII Tent Heater
The Dantherm VA-M15MKII warm air heater is a transportable 17.9kW unit primarily developed to heat tents and temporary buildings.
Our offer includes:
1 pcs VA-M15 MKII Tent Heater
2 pcs Insulated, flexible duct, Ø225x3000 mm with spigot
2 pcs Storage bag for flexible duct Ø225 mm
1 pcs Air distribution duct, Ø225x6000 mm
1 pcs Remote thermostat with cable, 15 m


The VA-M15MKII is a transportable unit that provides heating in tents or temporary, transportable buildings. The unit has been developed in close cooperation with the armed forces of NATO countries and is designed to be placed outside the tent, with supply and return air ducted to the tent.
The heater is based on the in-direct fired (clean air) principle to avoid introducing combustion or fumes into occupied spaces. The forced air system provides for the most rapid warm-up capability. The heater is essentially self-contained, requiring only a source of external electric power and fuel. The unit runs effectively on almost all diesel fuels. These are supplied by the fuel hose assembly which may be connected to external jerry cans or drums.


FEATURES
Cabinet made of 0,9 mm galvanized, powder coated steel sheet.
Top finish painting standard NATO green, RAL 6014.
Circular openings (Ø225 mm) for one supply and one return air ducts.
Operation with or without return air ducts fitted.
Adjustable fresh air intake from 0 to 40% of the total air volume.
Cold start at temperatures down to –40°C.
All necessary safety devices built in for protection and complete shut down in case of malfunction.
When storing or transporting the heater, the flue is fitted onto the unit.
Fitted with handles so that it can be carried manually by two persons.
Fuel supply from jerry can or oil drum, with a fuel supply lance for jerry can as standard.
Connect to the mains power supply or a separate diesel generator through a 15 m power cable.
Controlled by an optional remote thermostat which will be placed inside the tent.
Possibility for optional running the unit with a CO monitor.
Allowing ventilation without heating.
Highly efficient
Built according to EN 13842 and CE-marked.


ADDITIONAL ACCESSORIES
Remote CO monitor with cable, 15 m


Nato Stock Number 4520-22-613-3506
Operating range °C -40-(+25)
Heat output kW/BTU 17,9/61000
Efficiency % >85
Air flow @ 150 / 0 Pa m3/h 750/1080
Fresh air volume m3/h 0 - 300
Fuel consumption, max. l/h 1,7
Current consumption, max. A 4,3
Power consumption W 1000
Power supply V/Hz 1x230 / 50
Power supply plug type 16A CEE 2P+E, 220-240V, IP44
Air discharge temperature, max. °C 80
Flex. duct connection Ø mm 225
Noise level dB(A) 60
Weight kg 93