Laost otsas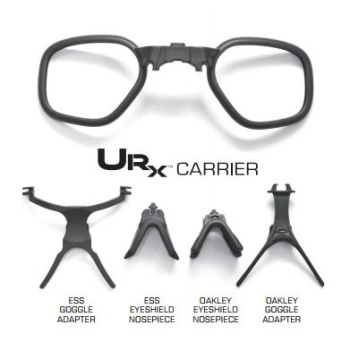 Zoom
The U-Rx™ Lens Insert (740-0411)
Includes:
U-Rx Carrier - Holds Customized Prescription Lenses
ESS CrossSeries Eyeshield Adapter
ESS Profile NVG Goggle Adapter
Oakley M-Frame Eyeshield Adaper
Oakley SI Ballistic Goggle Adapter
The U-Rx™ Prescription Lens Insert was developed to be the most comprehensive and adaptable Rx solution ever made. This universal Rx carrier fits behind your eye pro's primary lenses thus ensuring that your eye protection's safety standards are uncompromised.
The U-Rx is the first to interchange across brands in a wide variety of ESS and Oakley® ballistic eyeshields and goggles. The U-Rx™ Insert is designed to be used seamlessly with CrossSeries™ Eyeshields, Profile™ NVG Goggle and Influx™ Goggle platforms. It is also compatible with the Oakley® Ballistic M-Frame 2.0 / 3.0 and Oakley® SI Ballistic Goggle.
To identify Rx insert-compatible products, look for the Rx Insert Available symbol or reference the chart on the previous page. This is the Insert Kit Only, it does not include prescription lenses.