04353 Scepter Military Fuel Can POUR SPOUT 1in. (28mm)
04353 Scepter Military Fuel Can POUR SPOUT 1in. (28mm)
The Scepter Military Fuel Canister (MFC) pour spout was developed by Scepter to fit on both the 20L/5G and 10L/2.5G MFC. This pour spout will empty a full 20L/5G MFC in under one minute. This pour spout is well-suited for filling on-board diesel fuel tanks.
Notable Features:
*Designed to and meets Mil-C-53109, which has evolved to CID A-A-59592A.
*Equipped with a viton ringed gasket
*Can be used for both gasoline and diesel fuel pouring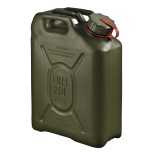 Scepter jerry can 05552 gas can 20L Olive Drab with Red Strap
SKU:
05552 scepter jerry can
78,00 €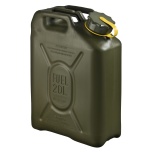 05939 Scepter NATO jerry can (military fuel can) 20L GENERIC Olive Drab with Yellow Strap which notes DIESEL
Producers code: 05939
Capacity: 20 litres
Neto weight: 2,3 kg
Color: Olive Drab
Yellow Strap which notes DIESEL
Producer: Scepter Canada Inc.
Producers homepage: http://mil.sceptermilitary.com
NB! Our NATO jerry cans that are GENERIC all come with a Viton gasket so they can accept also petrol even if marked for diesel; Most if not all civilian pattern vehicles today will only accept the 19mm spout (empties a 20l NATO jerry can in about 1.5 mins); however, Military vehicles and large commercial trucks can handle the 1" pour spout (it empties 20l jerry can in less than 60 seconds).
- NATO codified in 5+ countries, but deployed in Canada, USA, Mexico, Chile, Denmark, Luxemburg, Norway, UAE, Australia, and many more countries
- The first Military Water Can ever produced in the world
- Been in service since the 1960's with Canada and US
- Designed and produced to military specifications MIL-DTL-43613E and CF-C-693
- Made of FDA approved materials
- BPA free
- Large mouth for filling and emptying quickly
- Small pour cap for precision pouring
- Vent built in to cap assembly for smooth pouring
- Pouring dispenser available
- Locking tab to ensure cap does not loosen during transport
- Plastic tether securing cap to can
- No rust because all components are plastic
- Able to add unique inserts into the moulds to identify ownership
- Headspace so container will float when full
- Green, Black, Sand, Desert Sand, Blue, or Drab colours available
- Operating temperature of material is -32C to +60C
Scepter Military Water Canisters
Scepter's Military Water Canister (MWC) is engineered and produced to military specifications and are codified by many nations globally.
The MWC comes in two versions, 20 litre (5 gal.) and 10 litre (2.5 gal.).
Each MWC has a unic, integrated single handle that, in the dark, prevents mistaking it for the three handled MFC.
Scepter's MWCs are supplied to military armed forces around the world as accessories on OEM vehicles and for OEM military auxiliary equipment and systems.
SKU:
05939 scepter jerry can
78,00 €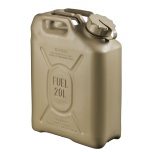 05577 Scepter NATO jerry can gas can military fuel can 20L Sand DIESEL
SKU:
05577 scepter jerry can
78,00 €