Laost otsas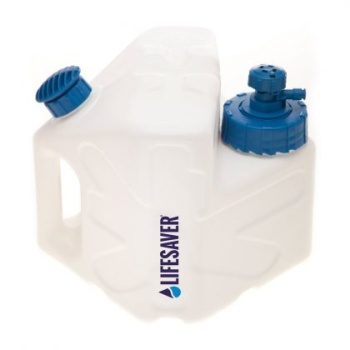 Zoom
LifeSaver CUBE
SKU:
lifesaver CUB0028
Brand:
LIFESAVER
Unit:
pcs
Qty available in stock:
0
A robust and portable water filter capable of delivering 5,000 litres of clean water for family use. The LifeSaver Cube holds up to 5 litres at any one time and is designed to support families whilst on the move, this includes families who are away from a mains water supply or for emergency response use by aid organisations and governments.
Video
Removes:

Virus – 99.999%
Bacteria – 99.9999%
Cysts – 99.99%

Dimensions: 200mm x 200mm x 208mm (h) (7.9 x 7.9 x 8.2 (h) inches)
Dry Weight: 1.2kg (42 oz)
Capacity: 5L (168 oz)
Purifies: 5,000 litres (1,325 US gallons)
Includes a replaceable Activated Carbon Filter for removal of chlorine, taste and odour which is effective for up to 100 litres
The water is still safe to consume without an Activated Carbon Filter installed
Failsafe – an automatic indicator when the cartridge needs replacing
Intuitive to use – FILL. PUMP. DRINK.
No measuring, wait times or unpleasant taste like when using chlorine or chlorine dioxide
Reduces turbidity of glacial, cloudy or muddy water
Robust body for use in the most demanding of environments
Manufactured in the UK
Product materials and water effluent both BPA and BPS free
THIS LIFESAVER CUBE INCLUDES:
Lifesaver Cube
1x Activated Carbon Filter – effective for up to 100 litres
Maintenance Pack (1x protective cartridge cap and 5x spare o-rings)
Designed and developed with International NGO – Oxfam, the LifeSaver Cube delivers clean water for individuals, families, groups and communities on the move. It is the ideal clean water solution for emergency preparedness – small enough to be transported or to be stored in a vehicle, or to used as a water filter in the home.
The LifeSaver Cube was designed to store and carry dirty water. We recommend storing dirty water, either in the cube or in other storage containers, and filtering through the cube as and when clean water is required, to prevent recontamination of previously filtered water.